Just over a year ago, we started our first major game project here at Flippfly, and announced it right here on this blog, playable web demo and all!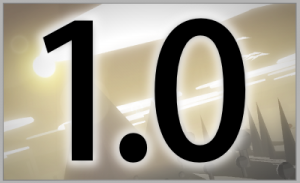 We've been through a lot since then. We released an early "alpha demo" on Kongregate, which proved to us that yes, this game has potential. We ran out of money. We ran a Kickstarter, which helped open our eyes to all kinds of new possibilities for the game. We slipped past our original launch date – sorry about that!
And we pressed on, confident that the project was worth seeing through. Through it all, our friends, families, and the development community has been nothing but supportive. Thank you all so much!
Today we're pleased to announce that the game is officially out of "beta", and available for purchase. We're also thrilled to show off our launch trailer, which was created by Josh Tsui.
Also – this is just the beginning! We've still got to fulfill some of our Kickstarter promises:

Add a playable "credits" level, with the names of our backers and other supporters

Add our backer's special quotes

Later today, we'll reveal a Roadmap for the game with some of our plans.
Thanks for following us along this journey!