Before I began I'd like to introduce myself: I'm Mike. I'm helping Aaron and Forest with some non-development stuff here at Flippfly including some of their presence on twitter, FB and blog posts. It's nice to meet you all and I'm really excited to be on the team.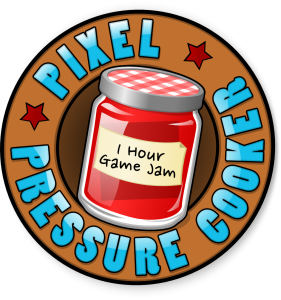 This coming Thursday, January 9th, 2014 at 2PM Eastern time (1 PM central) Flippfly will be doing a 1 hour game jam live at http://www.twitch.tv/flippfly. The game will be posted at flippfly.com by 2PM. We're calling this the "Pixel Pressure Cooker" and we're doing it every Thursday this month.
        Here's how it will work
Thursday morning we'll put out a call for themes on FB and Twitter
You'll have a couple of hours to suggest ideas. We'll choose one around noon our time (Central).
The jam starts at 1PM Central time (2 Eastern). Tune in and watch!
The jam stops at 2PM Central time (3 Eastern). The game will be on our blog as soon as we can upload it immediately afterwards.
        (Facebook)        (Twitter: @Flippfly)
Why?
As we've mentioned on our Twitter and Facebook feeds we've resolved to produce a game prototype every month in 2014. Ideally these will be games our fans can play and tell us their opinions on which will eventually help us to pick one or two and develop full fledged games based on these concepts and the feedback of our community. This is one of a few ways we're going to keep that resolution. If we produce something we're proud of we might continue to work on it after the jam.
We're hoping this will do a few things:
Give us some fresh ideas and force us to constantly brainstorm and be creative without focusing too much on details.
Inspire other developers to join in and create a community of folks who want to do this. That's an open invite- see below if you want to join in the fun of either the 1 hour jams or the 'game a month' resolution.
We're hoping people who want to make games can watch us and learn something, maybe get inspired when they see how quickly you can make a prototype.
Make friends and have fun. This should really be #1
 An open invite to join in the pressure cooker:
        We really want more people to do this. If you're reading this and thinking it looks like fun you should do it yourself! Shoot us an email, talk to us on facebook or tweet about it using #onehourjam. We'll find you and include you in our posts and updates. Maybe we can even collaborate! You can even grab the Pixel Pressure Cooker logo up top.
We hope you tune in and that some of you join in on the fun!