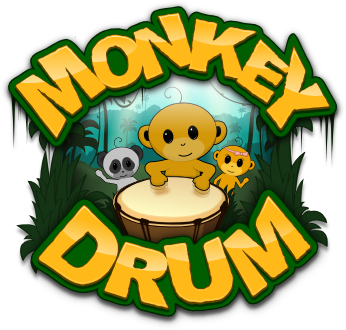 Making music has never been so fun, or so easy! Play realistic instruments and watch as little jungle animals copy your tunes. Accessorize your characters with a hat and sunglasses and see their funny reactions as you feed them bananas, spin them, or bop them on the head! Create real music just by drawing and watch as the creatures play your creation.



Frequently Asked Questions
Answers
1. One of Apple's software updates changed the way the mute buttons work. Most likely your iPad is muted, and you don't know it (sneaky little iPad). Here is a nice article that explains the whole thing: Apple Support
2. Try something! Don't worry, you won't break it :) A good place to start is by tapping the drum a few times. Then wait to see what happens!
3. It's all about creating music! If you tap out some music on the drum or the keyboard, the character will imitate you. After a while, you will earn a banana!
4. Monkeys (like most cartoon pandas) love bananas! You can feed the characters by holding the banana and sliding it over to them.
5. In the free version of Monkey Drum characters can be purchased in the store (see shopping cart button) using coins. Coins can be earned by playing with the characters, or by purchasing them with real money (see the treasure chests).
7. You found the sequencer! This is where you can create real music just by drawing on the grid. You can also do all kinds of cool stuff with your song.
8. We built those helpful hints right into the app! Now you will get tips on each feature automatically as you use it.
9. Glasses protect you from harmful UV rays of course! (but monkeys wear them just to look cool). In Monkey Drum, you can buy sunglasses and change their color!
10. We will keep adding to this F.A.Q. - but you can e-mail us at: support@flippfly.com for a personal response.
11. We may be able to help. Send us an E-mail using the link below. Describe your situation in detail and we will get back to you as soon as possible.
Support E-Mail Link